My thoughts on the book I recently read. I haven't voiced my opinions on a book in a while, so I do apologise that it isn't that great. If you do not want to be slightly spoiled, please avoid reading more. ^_^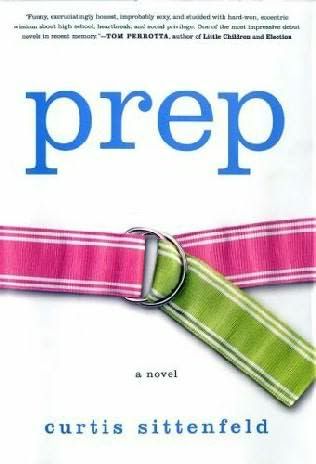 Lee Fiora is an intelligent, observant fourteen-year-old when her father drops her off in front of her dorm at the prestigious Ault School in Massachusetts. She leaves her animated, affectionate family in South Bend, Indiana, at least in part because of the boarding school's glossy brochure, in which boys in sweaters chat in front of old brick buildings, girls in kilts hold lacrosse sticks on pristinely mown athletic fields, and everyone sings hymns in chapel. As Lee soon learns, Ault is a cloistered world of jaded, attractive teenagers who spend summers on Nantucket and speak in their own clever shorthand. Both intimidated and fascinated by her classmates, Lee becomes a shrewd observer of–and, ultimately, a participant in–their rituals and mores. As a scholarship student, she constantly feels like an outsider and is both drawn to and repelled by other loners. By the time she's a senior, Lee has created a hard-won place for herself at Ault. But when her behavior takes a self-destructive and highly public turn, her carefully crafted identity within the community is shattered. – From curtissittenfeld.com

Before I even began to read this book I had heard reviews from others saying it was good, so I had hopped it would be. I have to say that I was not disappointed, in fact I really found myself absorbed with the character of Lee Fiora and all the events unravelling around her (primarily the ones in her own mind).
It is well written, and really captures how it feels to be young, adolescent and confused about your own space in the world. Although I did not attend a private school or find myself in situations that paralleled that character of Lee I found on many levels I could relate to her. Especially the feelings of isolation, of the anxiety of what other people are feeling or thinking towards you (which is hardly ever what you imagine it to be) and my own value of self worth.
I found that Lee felt like a real character, someone you could expect to see at school, see them but not be able to really understand them, to truly hear what they are thinking. I am pleased that Lee did not change because often in life we do not always become someone else, even if that is what we think we want or desire. There were times when I was frustrated, primarily in her meetings with Cross. I felt vaguely guilty that even though he was a bit of a 'sleeze' that I wanted their to be a real chance between he and Lee, for them to openly celebrate their relationship and to be the it couple everyone talked about. Again, in the reality of truth that could not happen, not when you see the situation in the light it really was, but I won't spoil the details.
I really enjoyed this book and would recommend it to anyone that finds novels about growing up as interesting as I do. Or for anyone that enjoys a complicated journey into the mind of another human.